Our Doctors
Established in 2000, NorthWest has a dedicated staff that strives to deliver personal care and service to all of our patients in Charlotte, NC. With over 40 years of combined experience, our physicians have the knowledge and training to care for most of your medical needs. We have an on-site lab and X-ray as well as access to specialty clinics and doctors throughout the region. Look no further for a health care team that really cares for you and is independent of large hospital groups.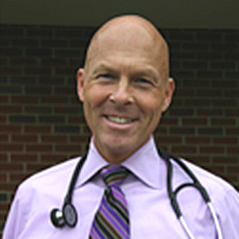 William G. Larsen, M.D.
William G. Larsen, M.D. graduated from the University of North Carolina at Chapel Hill with a degree in Zoology and studied Medicine at East Carolina University. After obtaining his M.D. degree, he completed his residency in Family Medicine at UCLA Santa Monica. Before returning to his home in North Carolina, Dr. Larsen was a Professor of Family Medicine at UCLA. He is also a fellow of the American Academy of Family Physicians and board-certified in family medicine.
Dr. Larsen has practiced at NorthWest since its inception in May 2000 and is proud to care for all families. Prior to that, he worked at the Nalle Clinic in the same location. Dr. Larsen and his colleagues are trained in the full spectrum of care, including minor surgery, internal medicine, and gynecology, from pediatrics to geriatrics. Additionally, he has a special interest in HIV care.
Dr. Larsen grew up in nearby Stanly County and now resides in uptown Charlotte. He is an avid cyclist and traveler.
Catherine Norton, M.D
Born in Sierpc, Poland, Catherine Norton, M.D. is also a founding member of NorthWest. After graduating from medical school in Warsaw, she served as a physician in the pediatrics division of the local health department in Boleslawiec, Poland.
Dr. Norton and her family immigrated to the United States, where she continued her medical career at the cardiology department of Bess Kaiser Hospital in Portland, OR. She then completed her Family Medicine Practice residency at St. Vincent's Health Center in Erie, PA.
Dr. Norton is married with two children and lives in southeast Charlotte. She enjoys running and has a keen interest in women's health.